New Moon Circle & Meditation
​
With Karen Coffin

Friday, January 27TH
7PM

LOVE OFFERINGS WELCOME
**PRE-REGISTRATION REQUIRED**
(LIMIT 20 PEOPLE PER CIRCLE)
​
As we start a brand New Year, join us for a very special New Moon Circle.

The New Moon is a time for setting intentions and in this month's Circle, there will be a guided meditation on new beginnings, perfect for starting 2017 with focus and clarity.

Join us for this Circle and declare your intentions for the New Year.
Please bring with you to the circle:
a pillow or cushion to sit on
something small for the altar (a crystal, candle or something else that has meaning to you)
a yoga mat if you have one

This circle is open to everyone. Doors lock at 7:15pm so we can get started right away. There is no cost to join this circle but a love offering to the leader is welcome.
To register, simply click the "Register Now" button above. Please note only one person can be registered at a time.
---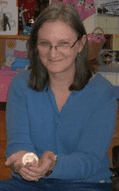 Karen is very grateful to be the proprietress of The Bag Lady. She is always honored to lead the New Moon Circle, which over the years has become an amazing community of people who have had the shared experience of sitting in a sacred circle together.
---